PHANTOM PLANET IN SPIN (April 2002)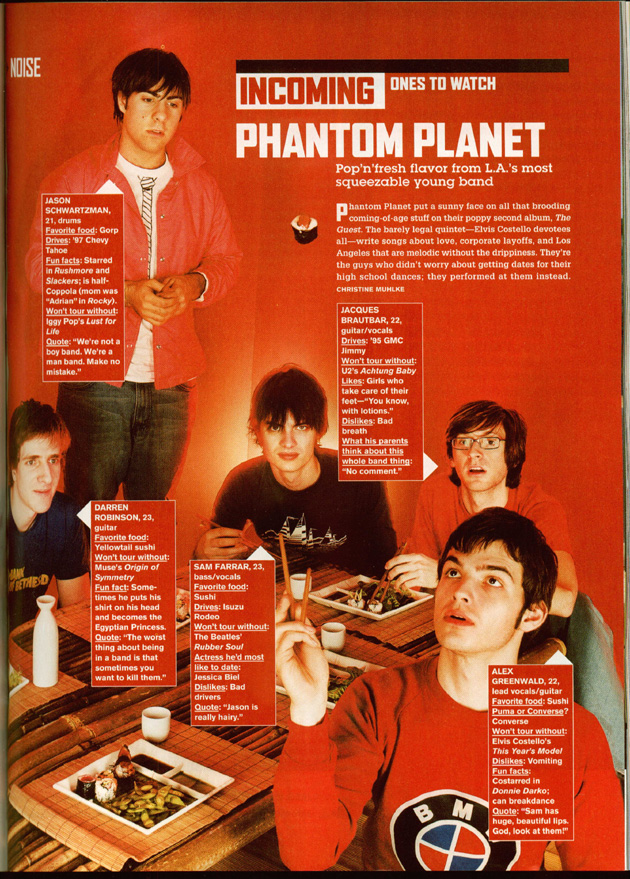 INCOMING: Ones to Watch
Phantom Planet
Pop'n' fresh flavor from L.A.'s most squeezable young band
Phantom Planet put a sunny face on all that brooding coming-of-age stuff on their poppy second album, The Guest. The barely legal quintet - Elvis Costello devotees all - write songs about love, corporate layoffs, and Los Angeles that are melodic without the drippiness. They're the guys who didn't worry about getting dates for their high school dances; they performed at them instead.
CHRISTINE MUHLKE
Caption stats (on photo, clockwise):
JASON SCHWARTZMAN, 21, drums
Favorite food: Gorp
Drives: '97 Chevy Tahoe
Fun facts: Starred in Rushmore and Slackers; is half-Coppola (mom was "Adrian" in Rocky).
Won't tour without: Iggy Pop's Lust for Life
Quote: "We're not a boy band. We're a man band. Make no mistake."
JACQUES BRAUTBAR, 22, guitar/vocals
Drives: '95 GMC Jimmy
Won't tour without: U2's Achtung Baby
Likes: Girls who take care of their feet - "You know, with lotions."
Dislikes: Bad breath
What his parents think about this whole band thing: "No comment."
ALEX GREENWALD, 22, lead vocals/guitar
Favorite food: Sushi
Puma or Converse?: Converse
Won't tour without: Elvis Costello's This Year's Model
Dislikes: Vomiting
Fun facts: Costarred in Donnie Darko; can breakdance
Quote: "Sam has huge, beautiful lips. God, look at them!"
SAM FARRAR, 23, bass/vocals
Favorite food: Sushi
Drives: Isuzu Rodeo
Won't tour without: The Beatles' Rubber Soul
Actress he'd most like to date: Jessica Biel
Dislikes: Bad drivers
Quote: "Jason is really hairy."
DARREN ROBINSON, 23, guitar
Favorite food: Yellowtail sushi
Won't tour without: Muse's Origin of Symmetry
Fun fact: Sometimes he puts his shirt on his head and becomes the Egyptian Princess.
Quote: "The worst thing about being in a band is that sometimes you want to kill them."