JASON SCHWARTZMAN IN PREMIERE (Feb. 2002)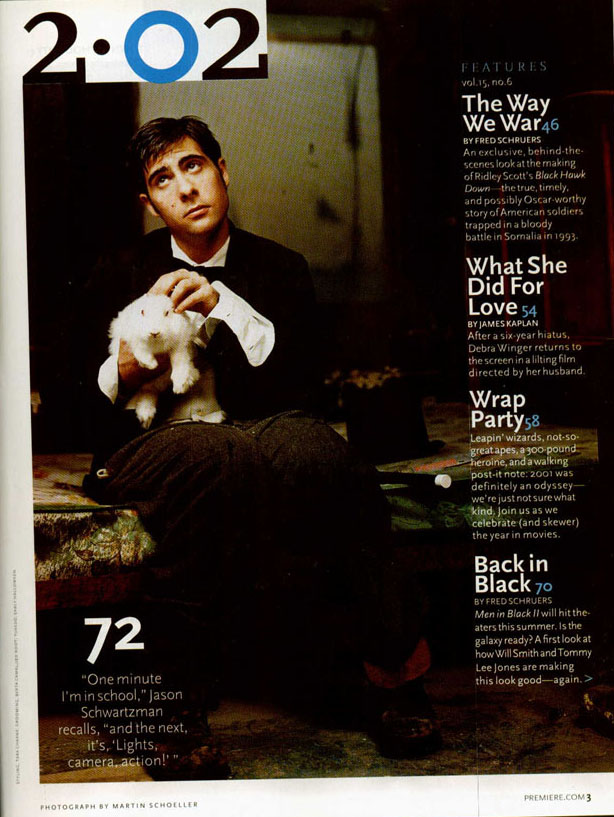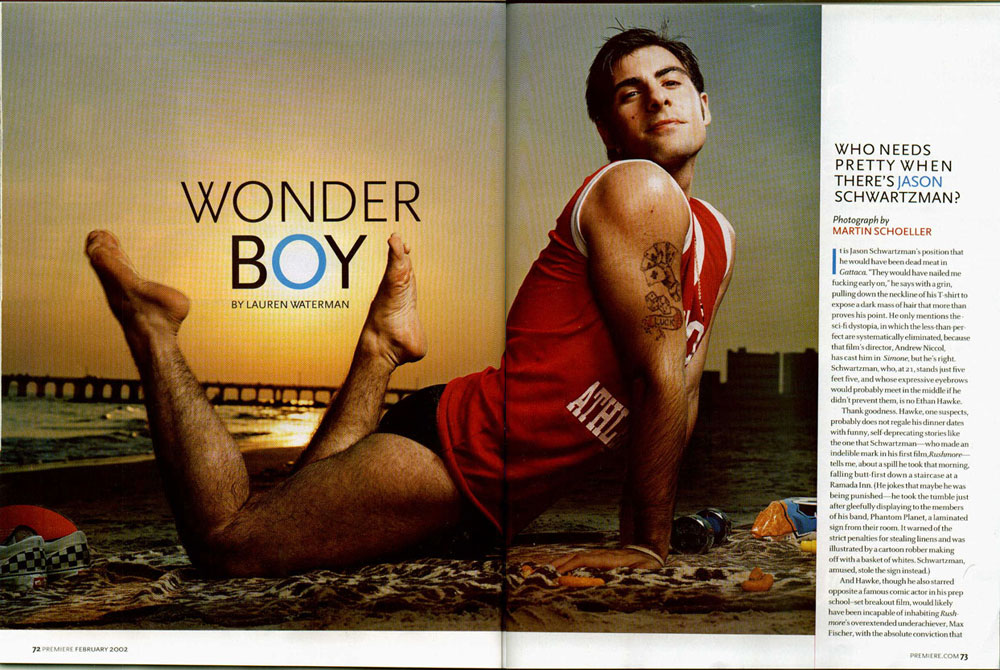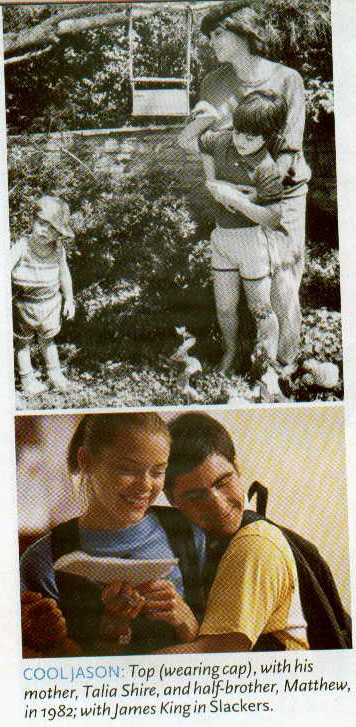 First 2 photos by Martin Schoeller
WONDER BOY
by Lauren Waterman
Who Needs Pretty When There's Jason Schwartzman?
It is Jason Schwartzman's position that he would have been dead meat in Gattaca. "They would have nailed me f*cking early on," he says with a grin, pulling down the neckline of his T-shirt to expose a dark mass of hair that more than proves his point. He only mentions the sci-fi dystopia, in which the less-than-perfect are systematically eliminated, because that film's director, Andrew Niccol, has cast him in Simone, but he's right. Schwartzman, who, at 21, stands just five feet five, and whose expressive eyebrows would probably meet in the middle if he didn't prevent them,is no Ethan Hawke.
Thank goodness. Hawke, one suspects, probably does not regale his dinner dates with funny, self-deprecating stories like the one that Schwartzman - who made an indelible mark in his first film, Rushmore - tells me, about a spill he took that morning, falling butt-first down a staircase at a Ramada Inn. (He jokes that maybe he was being punished - he took the tumble just after gleefully displaying to the members of his band, Phantom Planet, a laminated strict penalties for stealing linens and was illustrated by a cartoon robber making off with a basket of whites. Schwartzman, amused, stole the sign instead.)
And Hawke, though he also starred opposite a famous comic actor in his prep school-set breakout film, would likely have been incapable of inhabiting Rushmore's overextended underachiever, Max Fischer, with the absolute conviction that Schwartzman brought to the role. Schwartzman, for his part, was so dedicated to making his debut performance as fully realized as possible that he depilated that hairy chest for a single wrestling-match scene. Call it Method waxing.
Schwartzman's start in movies was as unlikely as he is. He was at a family party (that's the Coppola family - his mom is Talia Shire, Francis's sister) when his cousin Sofia introduced him to Rushmore's casting director. "I was cosmically wearing this over-the-top tuxedo with a top hat and a cane," Schwartzman says. The casting director must have liked what she saw, because she agreed to set up and audition for the next week. And though the 17-year-old was a drummer, not an actor, he easily nabbed the part. "It was a whirlwind," he says, sounding slightly awed even still. "One minute I'm in school, and the next, it's 'Lights, camera, action! This is Bill Murray, he's a Ghostbuster, maybe you've seen him once or twice before.'"
But it was the tornadoesque quality of his first film experience that was partly to blame for his subsequent three-year sabbatical from the screen. Upon his return to L.A., Schwartzman, who had neither an agent nor head shots, supposed he might never act again. "A lot of kid actors start young," he explains, "and they're like well-trained athletes. They've got it all down. And I had no idea. It was like I was standing there, and then all of a sudden I was running 70 miles an hour with these Olympic sprinters, trying to keep up. And we finished the race, and they were like" - he pauses and puts two fingers to his throat, eyeing his watch to symbolize checking a pulse - "and I'm like" - he pants exaggeratedly and gives a weak wave - "'I'll catch up with you guys in a few years.' It took a while, because I wasn't ready. I was thing, 'College? Music?' I wasn't in shape to keep up with the industry."
Eventually Schwartzman said no to college and yes to music - his band has opened for Tenacious D and Weezer, and will release their next album, The Guest, on Epic Records this month. Schwartzman's musical career appears as viable as his dramatic one: In concert, the drummer is admirably authoritative. But more to the point, at least for the legions of fans who loved him in Rushmore, he got in shape and finally made another movie.
This month sees the release of Slackers, a college-set film by photographer-director Dewey Nicks that stars Schwartzman as a villainous but hilarious stalker. Schwartzman jokes that because of all the press he's done in anticipation of the film's many release dates and under its many titles, "people think I've done 30 movies in the last year. But how lame is it," he goes on with a smile, "that they think they're all about the same thing? Yeah, [stalking] is a subject I really want to work out inside of me." Though the very physical, bombastic role is in many ways a marked departure from Max Fischer, there are a few similarities. Again, he is a boy in pursuit of an unattainable love (the placidly perfect Angela, played by James King), and again, hair removal was called for (he shaves his chest in the shape of an A to honor his would-be lover.)
Nicks credits Schwartzman's utter gameness with much of his character's humor. "Jason will do anything for a joke," he says admiringly. "For every minute in the movie, I have 30 more great choices that I could have made." The director also has high hopes for the pop cultural stickiness of Schwartzman's character, named, ironically, Cool Ethan. "I'm hoping that the audience will start to use Ethan as a descriptive terminology for a kind of person." And he doesn't mean the kind of person that mention of Ethan Hawke brings to mind.
But what struck Nicks most about Schwartzman is his genuine will to learn and his ability to connect with people. "It amazed me," Nicks says. "On the fourth day of shooting, we were having lunch and he said to me, 'I know the mane of everyone on the set.' And he turned around and started doing this thing, like, 'Hey, Joe, what are you having, a banana there with your dessert?' And, 'Hi, Cynthia, did you finish your macaroni?' He did, I think, 43 people in a row. He'd memorized the entire crew list. I bet you could go down the line of everyone on the set and day, 'Are you friends with Jason?' and they'd all say yes."
Not only is it undecidedly uncelebritylike behavior, the easygoing, regular-guyness that Nicks describes is virtually unbelievable coming from an acor who, let's not forget, is a scion of one of film's most powerful families. Also this year, he appears in cousin Roman Coppola's CQ, and when discussing his experience in filming Simone, in which he acts opposite Al Pacino, he says, "It's really bizarre to meet your heroes." Of course, Schwartzman has met that particular hero before, when Pacino starred with Schwartzman's mom in his uncle's Godfather movies, but he is completely untouched by Hollywood apathy. "I had a normal upbringing," he insists. "Little league, play dates. The one thing that is a mainstay in my family is that everone really supports everyone else."
One would think that with an album, a tour, true romance (Schwartzman is rumored to be dating actress Selma Blair, and though he won't give a name, he will say that he is in love), and four films set for release this year, Schwartzman might be gearing up for another break, but he seems to have other plans. "I'm also starring in Mission: Impossible 3," he says, craning his head to get a look at my notes. "Does it say that there?" And so he goes, making the movie world safe for even those actors who aren't your typical Toms and Ethans.
---
Lauren Waterman interviewed Drea de Matteo for the July issue of PREMIERE.