JASON SCHWARTZMAN IN HARPER'S BAZAAR (Jan. 2002)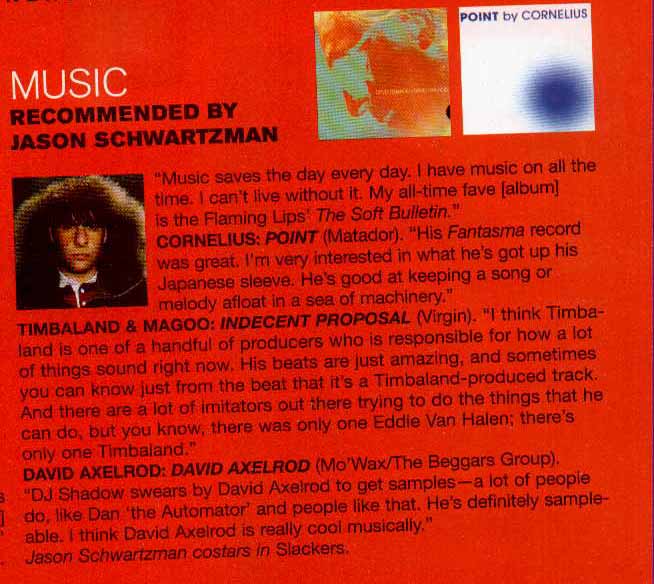 MUSIC recommended by Jason Schwartzman
"Music saves the day every day. I have music on all the time. I can't live without it. My all-time fave [album] is the Flaming Lips' The Soft Bulletin."
CORNELIUS: POINT (Matador). "His Fantasma record was great. I'm very interested in what he's got up his Japanese sleeve. He's good at keeping a song or melody afloat in a sea of machinery."
TIMBALAND & MAGOO: INDECENT PROPOSAL (Virgin). "I think Timbaland is one of a handful of producers who is responsible for how a lot of things sound right now. His beats are just amazing, and sometimes you can know just from the beat that it's a Tmbaland-produced track. And there are a lot of imitators out there trying to do the things that he can do, but you know, there was only one Eddie Van Halen; there's only one Timbaland."
DAVID AXELROD: DAVID AXELROD (Mo'Wax/The Beggars Group). "DJ Shadow swears by David Axelrod to get samples - a lot of people do, like Dan 'the Automator' and people like that. He's difinitely sample-able. I think David Axelrod is really cool musically."
Jason Schwartzman costars in Slackers.