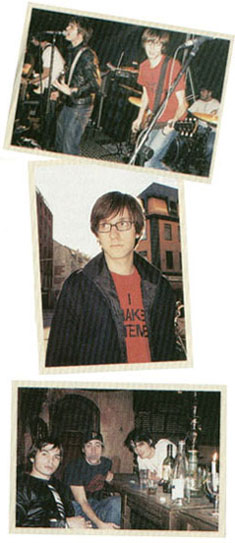 PP BIO BY JACQUES BRAUTBAR
It's a bit hazy, but I'll try to remember...
Sam picked me up from band rehearsal; at the time I was in a band called Swank. Actually, let me take this back a little further. I really wanted a new wah-wah pedal. I begged my mom to take me to Guitar Center, but we decided to go to West LA Music instead because it was closer. While I was trying out the pedal, playing the guitar solo to Pearl Jam's "Alive," I got a tap on my shoulder. This kid asked me if I wanted to join his band. We exchanged numbers and that was it. I thought I'd never see or hear from Jason again.
A few weeks later I got a call. It was Jason. He wanted to know if I wanted to jam with him and his two band mates. Of course my allegiance was to my band so I said, "no thanks." For two weeks Jason would call and I would give him the runaround. Until one day he asked if I could recommend anyone to play guitar in his band for a school fair. I recommended Sam. BOOM. The idea hit. I decided to go with Sam. That way I could check out the band and not feel pressured. Sam picked me up from Swank's practice and together we headed for Jason's.
We arrived in the afternoon and were greeted by a kid with bleached-blonde, spiky hair. He was dressed like a skater and introduced himself as Alex. Hmmm...I thought this guy was a punk. He led Sam and me downstairs to the rehearsal space. It was once a ballet studio. Down the hall I could see Jason. Well, barely. He was behind this huge, sparkling, red drum set. As luck would have it, he was in the middle of a drum solo. That was the moment I knew I had to join the band. Sam and I entered the room. That's when we met Darren. He was a clean-cut looking guy wearing jeans and a flannel shirt...it was very "Seattle." There we were: all five of us, but we had no idea of the ride we were about to embark on. Alex sang and played bass. Sam and Darren and I played guitar, and Jason played drums. We played a bunch of songs from bands we all liked: Weezer, STP, Tom Petty, Green Day, Smashing Pumpkins...and two original songs they had previously written: "Butterfly D-Cup" and "So I Fall Again." Afterwards we went to Pizza Hut in Westwood.
Shortly after that initial session, I joined the band. But we still needed a bass player. So after a few weeks I asked Sam if he wanted to play bass in the new band. It was a bit of a departure from guitar for him, but he was into it. The band was into Sam as well. We went to Pizza Hut and gave Sam the news that he was in and the rest is history.